VR Sex Toys are a next level experience for both men and women
In today's modern world, technology is revolutionizing virtually every aspect of our lives. From smart refrigerators that remind us the milk is expired to VR simulators training surgeons. Heck, even your toaster oven probably has opinions about your diet these days.
But one area where VR has stayed in the shadows (until now), is the bedroom.
Today, VR sex, sex simulation, and Wi-Fi-enabled masturbators for men and women are revolutionizing the way people experience pleasure and participate in sexual activities.
Coined as 'sextech', this wave of new innovations is set to transform the way we treat and experience pleasure in the digital realm.
VR and SexTech: The Future of Sex Toys is Now
Fact is, it was only a matter of time before smart devices and technology were adopted by the largest industry on the planet: the sex industry.
With a market projected to hit $209.2 BILLION by 2022, and with over 171 million VR users worldwide to date, VR is poised not just for continued growth, but blockbuster success.
If there is one thing that we know sells, from clothing to racecars, it's SEX.
Porn, sex toys, lingerie, and more, are taking a backseat to what promises to be one of the most innovative, exciting sensation (and sometimes controversial) challenges to societal norms: VR Sex.
Technology is now being used in new and exciting ways to augment and enhance sexual experience and orgasms, with a real partner, sex doll, or entirely in virtual reality.
In this piece, we'll pull back the covers on the fascinating and evolving world of VR and VR integrated sex toys, strokers, masturbation devices, vibrations and more.
Sex and Technology: A Match Made in Manmade Heaven
There's no question that 'sex sells', and with the advent of WiFi-enabled sex toys, VR Porn, and dolls that look, feel, and now react like a real human, the lines between reality and pleasure are being blurred in exciting new ways.
Emerging technologies and innovative new products offer accessibility to experiences previously unavailable or inaccessible or unachievable.
Let's take a closer look at how some of these new VR Sex products are transforming the way we think about sex.
Experience the Future of VR Sex
with Interactive VR Sex Toys
Mass adoption of VR Sex toys and control devices has led to marked decreases in cost, making this novel experience one that is now accessible to the masses.
Despite being around for decades, VR Sex has only recently started to take center stage as one of the most interesting (and satisfying) ways to enjoy Virtual Reality.
It wasn't long ago that science fiction teased us with the concept of sex in a virtual world, or with a 'sex robot'. And yet, today we have interactive sex dolls, virtual reality porn, interactive XXX games and NOW, even an automated and synchronized way to experience unparalleled pleasure and blowjobs in a truly immersive and interactive way like never before.
A pioneer in teledildonics and interactive sex toys, Kiiroo has earned a reputation for its innovative approaches and technology-forward sex toys and automated masturbators for men and women.
Once a taboo subject, web-enabled, and interactive sex toys are opening up new horizons of sexual exploration and presenting unique opportunities for pleasure, experience, and even intimacy for long-distance relationships and virtual dating.
Below we take a closer look at some of Kiiroo's leading products, a review about them and how they are revolutionizing the way we experience physical pleasure, in person, online, and in Virtual Reality.
The Keon represents the next generation of automatic sex toys and masturbation devices for men. Gone are the days of stationary silicone 'fleshlights' and the like.
With Keon, men enjoy a truly automated experience, with strokes powered by the device itself, and synced to a broad range of interactive possibilities.
Touted as the 'smartest automatic masturbator' on the market, we have to agree that KEON hits the mark every single time.
Focused on 'interactive pleasure', this device enables men to live out their wildest fantasies online to the max, in Virtual Reality, with a sex doll, or even synced to their own partners' movements from across the world.
WHAT MAKES THE KEON SO UNIQUE?
KEON is the lovechild of technology and sex toys, bringing together the two in a way that transforms the way we think about male masturbation.
Utilizing a proprietarily engineered silicon sleeve, the device offers a uniquely customizable experience with every use, offering pleasure tailored to each user or the user's preferences for that particular session.
But what makes the Kiiroo KEON even more unique is its interactive capabilities, turning fantasy into reality (more on that below).
KEON: THE LEADER IN INTERACTIVE AUTOMATED MASTURBATION
KEON in VR (Virtual Reality)
Virtual reality is reshaping the way people enjoy porn online, providing them with a new and exciting medium to enjoy the more tantalizing and seductive corners of the internet.
With virtual reality, consumers can inject themselves into virtually any sexual fantasy needs their heart desires. From BDSM, to role-playing and even anime, the possibilities are endless (and exhilarating).
But more than that, in VR users can interact with their FAVORITE porn stars, or even their long-distance partners, with the KEON matching the movements of the other party (be it live in real-time, or as part of a XXX video). If that doesn't get you excited we don't know what will.
Revolutionary Pleasure – Just One Purchase Away
Interactive Pleasure Connected to VR, Cams, Toys, and more …
Virtual reality, interactive sex dolls, and long-distance relationships are all missing one thing: the feel of another person touching you.
Having to manually stimulate yourself breaks down that 4th wall of immersion and takes away from the experience of having sex in VR (virtual reality) or with your long-distance partner from afar.
You want to FEEL each touch, each stroke, each pleasurable movement.
With the KEON device, you can sync strokes and touch with:
Other KIIROO or FeelTechnology enabled toys and devices

With 2D and Virtual Reality (VR) interactive compatible XXX videos, games, and more

With interactive webcams and cam shows
Other Key Features Aimed at Maximizing Pleasure Include:
Precise control of the speed and length of strokes

Tactile buttons make changing the feel mid-session or video a breeze (even with a VR headset on)

Comfort-minded design allows for a tight grip and is effortless to hold, featuring intuitive curves and no distractions

An Elegant LED lighting system reacts responsively to commands, offering the user real-time info on aspects such as speed, battery life, and connection mode
Feel Stroker and FeelStars
A modern feat of engineering brings us the Feel Stroker, a first-of-its-kind stroker designed to offer an unparalleled realistic experience. Utilizing skin-like material and combined with Kiiroo's Aqua Premium water-based lube, its as close to the real thing as is scientifically possible.
While the Feel Stroker can be used solo (manually), it is designed to fit perfectly inside of the KEON device for fully automated, hands-off pleasure.
FeelStars FeelStroker VR Masturbator Sleeves
If you've ever fantasized about what it would be like to be inside of your favorite porn star, you're not alone. Not by a long shot. Today, Kiiroo offers you an unprecedented opportunity to experience what it really feels like to have sex with your favorite actresses, icons, social media queens, cam girls, and more.
To date, Kiiroo offers more than 14 unique 'FeelStars' models, all formed from REAL molds of the actresses' vaginas, giving you unprecedented access to feel what these stars are like in real life.
Combined with 1000s of custom-produced FeelStars interactive videos, when combined with the KEON, this device offers the most immersive and realistic sexual experience you can have (apart from the real thing of course).
Connect Your Immersive VR Sex Toys for Virtual Sex With REAL People
From your Lover, to your Favorite Porn Stars and Cam Girls, KEON Makes it Possible
Like most of the adult world, you likely watch porn. Have you ever imagined having sex with a porn star while masturbating? What about with your favorite cam girl (or guy)?
We all have. That's where the KEON device really shines. It's one thing to watch, but a whole new world of possibilities opens up when you can actually PARTICIPATE and FEEL.
KEON brings physical pleasure, touch, and sensations to VR Porn, Cam shows, and even 2D videos, injecting you into each scene and allowing you to experience every stroke.
Utilizing KEON's proprietary software and syncing algorithms, the device can be synced to move with each actor's or actresses' movements, resulting in you experiencing every thrust as if you were really there.
If you already enjoy 3D and VR porn videos, games, and/or cam sessions, this is the final piece of the puzzle, blurring the lines of reality and the virtual in almost indistinguishable ways.
VR Dating and Long-Distance Relationships with KEON
Ever been separated from your partner for long periods of time or been in a long-distance relationship? Or perhaps you prefer dating and getting to know people online?
The world of VR is a rapidly evolving one, and one that has been quick to adopt virtual reality as a means to explore relationships, feeling, intimacy, connection, and yes, even sex.
Today, the dating pool isn't just confined to your geographic location, but the world at large.
Kiiroo Couples Set – the closest thing to being together when you're apart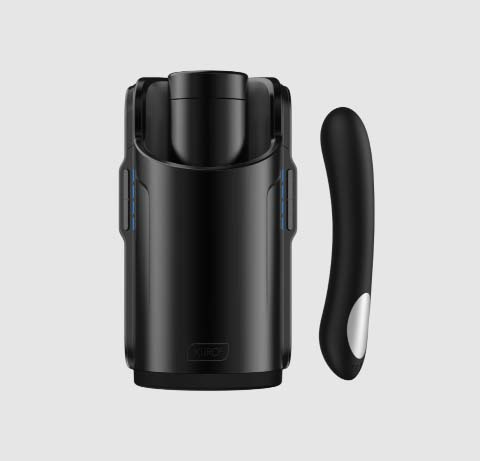 Great Things Often Come in Twos (and this set is no exception)
The Kiiroo Couples set is the ideal pairing for long-distance relationships or for couples who often travel a lot for work or family.
This set includes the KEON for men (automated stroker), and the OhMiBod Fuse for woman, a dual stim massager with 2-way communication and connectivity. The KEON also offers The KEON + Feelstroker Couple Set for men so that you both can interact with the automated stroker and vibrator while away from each other.
This pairing enables couples to share stroke length and pleasurable sensations no matter how far apart they are. With touch-sensitive technology, the two devices make bi-directional control possible, with either individual able to control the action and pace of stimulation.
How to Use the Couples VR Sex Toys by Kiiroo
The penis-haver can choose from either the KEON or TITAN device, while the vagina-haver gets the OhBiBod Fuse in Pink.
Each device requires an internet connection and an app to pair devices no matter how far apart the couples are. Be it in the next room over or across the world.
When paired, the other partner can feel what their counterpart is doing to them through the device, with each move synced to perfectly match the pace of their lover.
A simple touch or swipe of a touchpad is all that's necessary to control the stimulation, vibration, or stroking on the other end, putting you and your partner in full control of the action.
ALREADY HAVE A QUEST 2 VR HEADSET AND LOOKING TO

CONNECT

YOUR NEW KEON VR SEX TOY?
PRO TIP: In order to enjoy Kiiroo interactive scripts in-video/VR, you'll need to have SLR Premium + Scripts Bundle or an SLR Premium subscription. Other than that, always make sure you have installed and are using the most up-to-date app versions of either the DEOVR App or the SLR App.
This guide has everything you need to experience the best VR sexual encounter of your life.
Download the Right Installer: First up, head on over to SexLikeReal and download the 'Quest All in One' Installer. Here's the link download the Free SexLikeReal Occulus App

Select the 'Quest Sideload' option: There will be three buttons at the top. PC, Quest, and Quest Sideload. Hit that quest sideload button.

Install the SLR Installer on Your PC or Mac.

Connection: Follow the instruction prompts on your Quest to connect the device

Connect to PC/MAC: Next, connect your Quest to either your PC or MAC and install the SLR Installer

Disconnect your Quest Device from your PC or Mac.

Head on Over to the Quest 'Library': Once there, choose 'unknown sources', then select SLR App
That's all there is to it.
HOW TO INSTALL THE HAPTICS CONNECT APP DIRECTLY ON THE QUEST 2 HEADSET
PRO TIP: Before we dive in, it's important to remember that this method will only work IF you install and operate the Haptics Connect app DIRECTLY on the Quest 2 headset.
Update Firmware: Before we start, now is a great time to make sure you have the most up-to-date firmware for the Quest 2 installed on your headset.
Go to settings, then click on 'about'
If there is an available update it will tell you onscreen
Download the new update (if required), then restart the device
Installation of the SLR App on Your Headset
*Alternatively, you can use the DEOVR app, which can be directly downloaded from the Oculus App Store from within the headset. By manually entering www.sexlikereal.com in the DEOVR app (not the internet browser) you can transform the DEOVR app into an SLR app.
Download and Installation of Sidequest
First, download Sidequest on either your PC or Mac
This can be done by visiting: https://sidequestvr.com/download
Follow the instruction prompts and enable Dev-mode
PRO TIP: ONLY plug in your Oculus Quest to your PC/MAC for the LAST step and keep it plugged in when in use.
Download the Haptics Connect APK file
Install the Haptics Connect APK on Your Quest 2
With the USB cable still plugged in, click on 'Install APK' (located at the top of the menu inside the Sidequest App)
Enable 'Multitasking
This can be done by going into 'settings' and then 'experimental features'
Activate Bluetooth
Within 'Settings' go to 'Experimental Features'
Then click on 'Pair' and then 'Pair New Device'
*NOTE: Do NOT pair with your toy/device UNLESS it is the Onyx+. If you accidentally pair at this step simply click on 'unpair/forget' device
Load Up Haptics Connect
The Haptics Connect App can be found by browsing your 'apps' from within the Quest 2's main menu, then clicking on the dropdown menu in the upper right. In there click on 'unknown sources' to find the Haptics Connect App
Follow These Steps In EXACT Order
When prompted, allow Bluetooth and location permissions
Log in to your SLR account
Navigate to the settings tab and turn on ALL options EXCEPT for 'scan devices at startup'
Locate the devices tab and click on 'stop scanning' – just in case it still is
Click the X button located at the bottom left of the app screen to force close the app (this step is CRITICAL)
Next, relaunch the Haptics Connect App
Now, head over to the devices tab again and click on 'stop scanning'
Turn on your Bluetooth supported Kiiroo toy
Click on 'Scan' and the toy should automatically pair with your headset
Once connected, verify that the device moves with 'Hello Strokes'
If connected and working properly, leave the app running and do not close or quit the app
Go to 'Settings', then 'Interactive', and Toggle 'ON' to connect the SLR Interactive / Haptics Connect
In the bottom left you should now notice a green light indicating the SLR Interactive / Haptics Connect App is paired
That's it. Search for any Scene within the 'Sex Toys' category and enjoy … you've earned it!
The Future of Long-Distance Intimacy and VR Sex is Here – with Kiiroo Connected Sex Toys
Advancements in technology have opened up new and exciting doors for experiencing sexual stimulation and intimacy in ways never before possible.
It wasn't long ago that VR sex, connected sex toys, and automated masturbation toys were the stuff of science fiction.
Today, industry pioneer Kiiroo has paved the way for experiencing sexual pleasure, transforming how we enjoy our time with adult videos, virtual reality, and long-distance partners.
How do we keep this site running?
This post may contain affiliate links — the cost is the same to you, but we get a referral fee. Compensation does not affect opinions stated. Thanks!